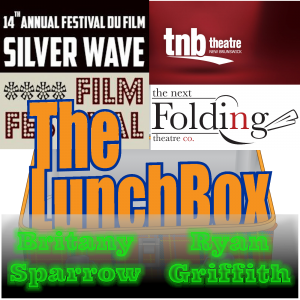 I am constantly amazed by the level and breadth of artistic talent in and around this city. We often get a chance to celebrate the great music, from regular performances at venues like The Capital Complex, The Cellar and The Playhouse.
This weekend, we celebrate drama, both in cinema and in theatre. Opening today are two film festivals (The 14th Silverwave Film Festival and The Cold Cuts Film Festival), tomorrow features a one-day performance of the play "Somme Letters Home" by Theatre NB, and so much more!
My guests today both are invested personally in drama. First, I have Britany Sparrow, film maker, author, director and producer. She's got two films in the Silverwave Film Festival this weekend, her writer-directed short "Here Without You" and her produced "Gary". She joined me to talk about being a lifelong writer and becoming a filmmaker.
Second, Ryan Griffith from The Next Folding Theatre Company joined me. He's a contract director at TNB, and we talked about the upcoming production of "Somme Letters Home" at Memorial Hall on campus, November 7th. We also talked about his work with The Next Folding Theatre Company and his chance to win a spot for his comedy television series, Fred and Carl are Park Rangers!

Podcast: Play in new window | Download
Subscribe: Google Podcasts | RSS