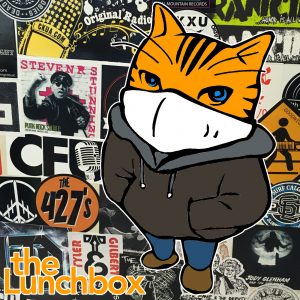 Today:
I spoke with Len Falkenstein, Adrian Saliendra and Seth Giberson about the upcoming online presentation of Theatre UNB's DUELs and DUETs. The show runs from December 3 through December 5 via private YouTube streams.

The lineup for Duels and Duets, performed by the students of UNB's Drama 2173, and directed by Len Falkenstein:

A Curious Incident at the Park in the Daytime by Jeff Lloyd
Liatorp by Anna Chatterton
Someone Gets Shot by Jake Martin
Goblin Market by McKenna Boeckner
Train Ride by Michael Milech
Camp by Muriel Falkenstein
Tubmates by Gordan Mihan
H.E.A.R.T. by Jean-Michel Cliche
A Little Wordplay Between Friends by Sarah Higgins

Performances will be ticketed as private YouTube livestreams taking place nightly at 7:30pm from December 3rd-5th, 2020.

Tickets for the performance night of your choice ($10 regular, $8 seniors/underwaged, $5 students) can be purchased at EventBrite.

We have another installment of Positive Songs For Pandemics with Lainie B, the host of Monday Night's B Street. This week it's the Fountains of Wayne with Valley Winter Song.
I've got two opposing thoughts in my head, so I've got two very different songs to end off the episode: Dark of Day by Art Of The Possible, and Lose You by Bleum.
It's Make a Gift Day, and while it can seem old-fashioned to create something for the holidays rather than buying them something, I think this year (of all years) really needs that personal touch. Whether its a card or a cardigan, today's a great day to get started!
It's the International Day of Persons with Disabilities, so it's a good time to look around you, and try to imagine how you can make life better for those who might be struggling.
Also, consider as the weather gets colder, what it's like to struggle with one of the basic needs, on Roof Over Your Head Day.
News updates:
New Brunswick Public Health reported six new cases of COVID-19 yesterday afternoon.

Parts of southern New Brunswick picked up close to 200 millimetres of rain from an intense low-pressure system this week.

The New Brunswick Nursing Home Association is calling on the public to help spread some holiday cheer to residents, staff and their families.

Gas and diesel prices are up across New Brunswick on Thursday.

Education Minister Dominic Cardy is asking parents living in orange phase health zones to keep sending their children to school.

New Brunswick's Opposition Liberals think it's time the province ditch time changes.

And Canada's chief public health officer says a priority list of the COVID-19 vaccinations has to be refined because the initial doses won't be enough.

Podcast: Play in new window | Download
Subscribe: Google Podcasts | RSS