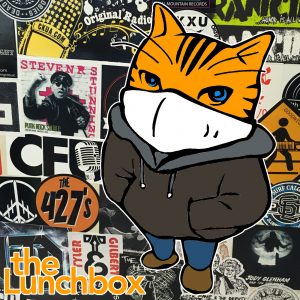 Feature:
It's just about time to enjoy some outdoor summer theatre — and this year, we're actually able to do it! Bard in the Barracks is back again this year with a new twist on a classic in a new location: Shakespeare's The Tempest, but with a scifi twist, and staged in the Botanical Gardens. I'm joined by Grand Poobah of Theatre Len Falkenstein and two of the actors of this year's performance: Rebekah Chassé (Prospero) and Lara Lewis (Ariel).
And with Mike Bravener performing on The Patio at the Cap tonight, I thought I'd bring forward my 2019 interview with him about the album of New Brunswick folk songs which was just coming out then (and has now been released): Depends Upon The Pay.
News Headlines
New Brunswick is now on track to slowly loosen COVID-19 health restrictions.
Meanwhile, Premier Blaine Higgs says we could move to phase two of green recovery later this week.
A woman who appealed a first-degree murder charge has pleaded guilty to a lesser charge.
The Vitalite Health Network says its hospitals have been equipped with technology allowing pathology specimens to be viewed remotely.
A cybersecurity expert says a recent password leak may have put your security at risk.
Ward 8 Councilor Greg Ericson has been appointed Deputy Mayor for the City of Fredericton.
The yellow bike program is starting to gain traction in Fredericton.
And business leaders are calling on Ottawa to lay out a plan to reopen the economy and international borders.
Upcoming Events:
ECO Market

, Tuesday/Wednesday/Friday noon-4pm, Thursday noon-6pm




The Ville Cooperative has launched a new ECO market that promotes sustainable living! You'll find environmentally conscious arts, crafts, fresh produce, and no plastic products. Stop by for all things local, fresh and eco-friendly!

Wednesday (16):
Thursday (17):

Rock 'n' Roll Bingo

, 7pm, The Wilser's Room

An Ocean of Evergreens [THEATRE]

, 7pm (17-19), 2pm (19, 20), Odell Park




An Ocean of Evergreens is a story about childhood best friends reuniting after four years apart in different cities and different worlds.





As they return to Fundy National Park and undertake the traditional May long weekend camping trip, they are met with the ghosts of their past.





This supernatural ensemble play explores topics of loss, grief and how growing apart is an important part of growing up. Written by New Brunswick Playwright Jena McLean.





This is an outdoor performance. Guests are encouraged to dress for the weather. COVID safety measures will be in place. Please bring a mask as they will be required when not seated.





GENERAL ADMISSION -$15-




Bring your own lawn chair or blanket and choose a spot anywhere




Buy 4 or more tickets and get 10% off! 

Anthony Gray,

8pm, St Louis Bar & Grill

(weekly)

The Rik Reese Band

, 9:30pm, Dolan's Pub

Friday (18):

Wabanaki Exhibit opening, 5:30pm, Gallery on Queen


Wabanaki will showcase various Indigenous artists and mediums. This exhibition celebrates the heritage, the strength, and the variety of forms that these artists create.





Join us for Wabanaki's opening event with an introductory ceremony hosted by Chief Alan Polchies.





See work from: Katie Augustine, Kennlin Barlow, Braelynne Cyr, Brian Francis, Frannie Francis, Tara Francis, Charlie Gaffney, Tim Hogan, Chantal Polchies, Justin Sappier, Alan Syliboy, Garry Sanipass, Pauline Young-Matchet.





We will also feature work from the collections of Ned Bear and Roger Simon.

Hansen|Ball with Justine Everett,

7pm, Southside Shake

Outlaw

, 7pm, The Royal Canadian Legion

Quinn Bonnell

, 7pm, The Tipsy Muse Café

Frantically Atlantic

, 7pm, York County Cider

An Ocean of Evergreens [THEATRE]

, 7pm (17-19), 2pm (19, 20), Odell Park

Drive-in Movie: Night At The Museum

, 8pm, Delta Hotel

Comedy Night

, 9pm, The Cap




with: Mary Green, Maggie Estey, Jenn Flewelling, Brandy Lee Rivers, Ayla Poitras, Gill Salmon, Indigo Poirier! Hosted by Nat Armstrong

Saturday (19):

An Ocean of Evergreens [THEATRE], 7pm (17-19), 2pm (19, 20), Odell Park
GIN & Jazz with music by BRIDGE

, 7pm, Southside Shake

Jaclyn Reinhart,

7pm, Crabbe Mountain Inn

The Don Bosse Trio featuring Gary Hansen, 7pm, The Tipsy Muse Café
[Living Roots] Colin Fowlie Album Release

, 7:30pm, The Playhouse

Cunningham Haines & Stmr.36 BBQ 1 Yr Anniversary

, 9:00pm, Stmr.36 BBQ & Social

Sonic Detour with Celldweller

, 9pm, The Cap

The Rik Reese Band

, 9:30pm, Dolan's Pub

Podcast: Play in new window | Download
Subscribe: Google Podcasts | RSS | More