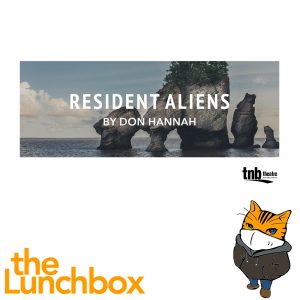 Some events we recognize as important when they happen; others can only be realized long after, upon reflection.
My guest today is Don Hannah, a Canadian playwright behind the new play Resident Aliens. He joins me live in studio to chat about the factual origins of one part of this play — the remarkable travel of New Brunswicker Vivian Larsen in 1959 — and the fictional but realistic origins of the other part of this play, as a character looking back on a lifetime. We also talk about writing, exploring New Brunswick stories and being a playwright.
Resident Aliens premieres at TNB's Open Space Theatre on March 22, and runs nightly until March 25, with a matinee performance on March 26. After that, it goes on tour across the province to six other locations.

Podcast: Play in new window | Download
Subscribe: Google Podcasts | RSS