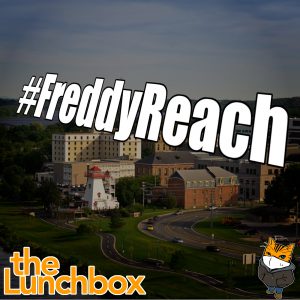 This city is filled with helpful people, interesting things to do, and an abundance of possibilities. But sometimes, we need a little help discovering that.
My guests today are Emma Chevarie (Music Runs Through It) and Brenda Perrin (Fredericton Convention Centre), two of the organizers of the upcoming #FreddyReach community mixer. They join me to chat about the origins of the idea, their plans for the specific event coming up, and their hopes for the growth of community building that the #FreddyReach concept will inspire and facilitate.
The first #FreddyReach event (FB event link) is coming up on February 10 at 6pm until 8pm at The Tipsy Muse Café. They're hoping for all sorts of people there, from newcomers still exploring the city to people who have lived here their entire lives, from people who are connectors to businesses and organization to those who wish to get connected. The mixer will also feature the opportunity to participate and share in a music jam.
You can find the #FreddyReach Facebook group for discussion, or visit the link tree the group has created for a wealth of local information.

Podcast: Play in new window | Download
Subscribe: Google Podcasts | RSS