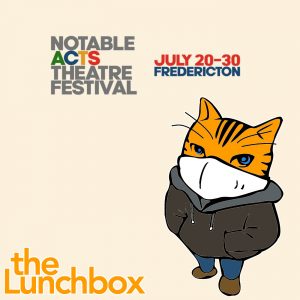 Notable Acts brings brand-new plays, in brand-new locations, and often-times they're weird, they're wonderful, and they're entirely novel.
Joining me today are some of the people behind this year's Notable Acts Theatre Festival.
Gillian Salmon is a playwright with several plays in her catalogue. This year, she's written a pair of site-specific plays: Historical Walking Tour/Where We Go One, We Go All.
Brandon Hicks has been involved in a number of creative endeavours, from Next Folding Theatre Company to freelance writer/illustrator, and is the playwright for Keeping Tabs, one of the ten-minute, "Taking It To The Streets" productions.
And Emily Darling has performed in numerous productions of Theatre UNB plays, and can be found as one of the characters in Chicken Man and behind the scenes as the director of #MomLife.
We talked about where these stories come from, the challenges they present to stage, and how much the community of theatre contributes to their success.
The Notable Acts Theatre Festival runs from July 20-30. The set of four, 10-minute plays called "Taking It To The Streets" (which includes Chicken Man and #MomLife) will be performed 7:30pm nightly from July 24-27 outdoors in the Beaverbrook Art Gallery Courtyard (weather permitting).
Historical Walking Tour/Where We Go One, We Go All are part of the site-specific plays running from July 24-27 at 8:30pm nightly, starting outdoors by the Beaverbrook Art Gallery Courtyard.
That means you can take in both performances, one after the other! Admission to each is by Pay-what-you-will.
More information about these plays (taken from the Notable Acts Theatre Festival website):
#MomLife

All Jackie needs is a few moments of silence to get her fussy baby to sleep, but this evening the world, and a particularly persistent missionary, has other plans.

Written by Sandra Kell. Directed by Emily Darling. Featuring Al Newling, Hailey Trifts, Gray Miller, and Adrian Saliendra.
Keeping Tabs

Online interruptions abound as every tab on Allie's computer can't stop chiming in as she preps for her date with Nina.

Written by Brandon Hicks. Directed by Jane Deil. Featuring Diana Chavez, Alex Pannier, and Kaylee MacNeil.
To Dig or Not to Dig

A famed paleontologist and her younger protégé spar over professional ethics, unearthing frank disapprovals of one another's methods.

Written by Julianne Richard. Directed by Armin Panjwani. Featuring Rebecca Tremblay and Adrian Saliendra
Chicken Man

Never having accepted that it is her genetic destiny to remain earthbound, Tootsie the chicken is determined to follow his icon, the comic book superhero Chicken Man, on a path into the skies and glory.

Written by Mary Walker. Directed by Julianne Richard. Featuring Ben McIntosh, Madeline Savoie, Emily Darling, and Alex Pannier.

Podcast: Play in new window | Download
Subscribe: Google Podcasts | RSS