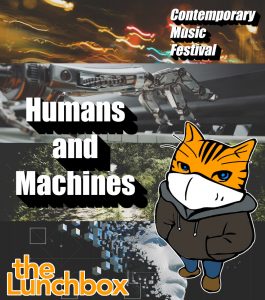 My guest today is Nadia Francavilla, Musician-in-Residence at UNB, who has once again curated an intriguing and exciting Contemporary Music Festival. This year, the theme is Humans and Machines, an exploration of the impact of technology on humanity.
Our conversation ranges from the threat to the promise of technology for musicians and composers, and some of the ways it has contributed to this year's festival — including one partially composed using AI!
Humans and Machines features three different concerts, all hosted at UNB's Memorial Hall:
Welcome to the Party! – Friday, October 14, 7:30pm
Dirt Road (including a talk by artist Stephen Hutchings) – Saturday, October 15, 7:30pm.
Humans and Machines – Sunday, October 16, 7:30pm
For more information and to purchase tickets, visit the festival website at Music UNB.

Podcast: Play in new window | Download
Subscribe: Google Podcasts | RSS