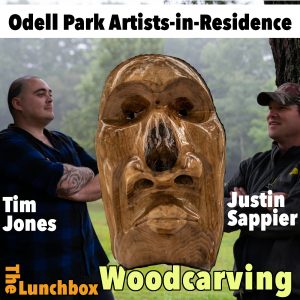 Artists often see the world not as it appears, but as it could be, and take note of the features that are waiting to be expressed.
My guests today are Justin Sappier and Tim Jones. Both of them have fallen in love with trees, finding sacred faces of tree spirits lying just below the surface of the wood. For the past couple of years, they have gone from complete novices to producing stunning pieces, through a combination of obsessive attention to care and a desire to push the shining quality of the finish to an astonishing level.
During the summer, the city of Fredericton is hosting numerous artists and crafters each week at the Odell Park Lodge, to practice their art for all to see. These artists come from a wide variety of disciplines, from painting and sculpture to basket-weaving and writing. From time to time, we'll check in with these artists on the Lunchbox to find out what makes their art move them.

Podcast: Play in new window | Download
Subscribe: Google Podcasts | RSS