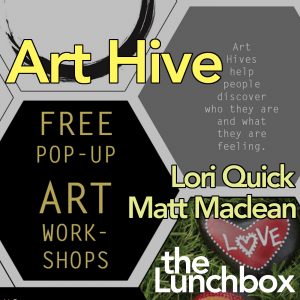 Art is so much more than something to be seen once its done; it can be something experienced from the inside, a deeper, richer thing because you created it, and it can come from you.
My guests today are Lori Quick (UNB Art Centre) and Matt Maclean (UNB Counselling Services) who have joined together with others to host a program called Art Hive. Art Hive provides a space, training and encouragement to students from any post-secondary school in the area, with the goal to provide free art instruction and experience in a safe space and help people with self-expression. The workshops in Art Hives help to cultivate the artist identity in each of us through every stage of life.
The first Art Hive event is on September 26 at 12:30, featuring the style of single-stroke painting called Enso Circles. This will be held at the ArtZone Studio in Memorial Hall, room 26. These workshops are free and all materials will be provided. They are open to all students in Fredericton from post-secondary institutions. No experience necessary.

Podcast: Play in new window | Download
Subscribe: Google Podcasts | RSS