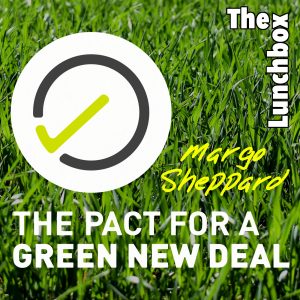 We've only got one world, and it should be clear that it's in trouble — but how do we come together to forge solutions that respect the environment and all of its peoples, all while producing positive economic impact and growth? Sounds like a pretty big Deal.
My guest today is Margo Sheppard, a member of the Fredericton Chapter of the Council of Canadians and part of the organizing committee of Green New Deal Canada. She joins me to talk about the motivations, origin and purpose of the Green New Deal Canada, including efforts to collaborate with all Canadians in discovering what the most pressing economic, social and societal needs are, with respect to the environment and political action to combat climate disruption.
There are numerous town hall meetings taking place across the country to present, discuss and consider solutions for the Green New Deal. In Fredericton, one meeting will be held on June 18 at 7pm at the Christ Church Cathedral Hall, 168 Church St.

Podcast: Play in new window | Download
Subscribe: Google Podcasts | RSS