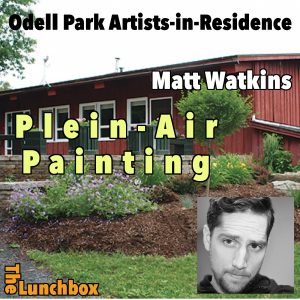 Nature is dynamic and ever-changing, at each moment displaying a portrait of a landscape.
During the summer, the city of Fredericton is hosting numerous artists and crafters each week at the Odell Park Lodge, to practice their art for all to see. These artists come from a wide variety of disciplines, from painting and sculpture to basket-weaving and writing. From time to time, we'll check in with these artistson the Lunchbox to find out what makes their art move them.
My guest today is Matt Watkins, a plein-air painter taking in the beauty of Odell Park during his residency. He joins me to talk about his approach to capturing nature by making smaller paintings with a small palette, and finding spots which he can look in any direction and find inspiration.

Podcast: Play in new window | Download
Subscribe: Google Podcasts | RSS