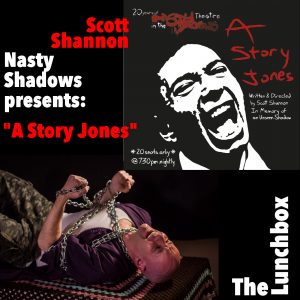 Theatre has its traditions, and one of it's traditions is to try to change everything about theatre.
My guest today is Scott Shannon, co-founder of Nasty Shadows Theatre Company, and writer/director/actor of their upcoming production A Story Jones. He joins me to talk about how this play got started as a tribute, how it has grown collaboratively, and how he seeks to try to be a very different kind of theatre company.
A Story Jones opens at 7:30pm on May 1 at Memorial Hall on UNB Campus, and is staged for only two days before moving on to Saint John and Moncton. Each performance has a deliberately limited 20 seats, so be sure to get your ticket right away.

Podcast: Play in new window | Download
Subscribe: Google Podcasts | RSS