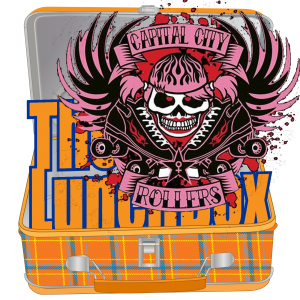 We have a pretty cool city here, full of diverse groups doing all kinds of fun things, and surrounded by lush farmland containing fresh vegetables and fruit.
Today it's a pair of interviews that highlight these distant topics. First, The Sour Snatch Kid from the Capital City Rollers joined me and guest host Tim Rayne to talk about her experience as one of the newest of the league. We chatted about the rules of the game and their current need for a place to practice during the winner.
If you know of a place where the Capital City Rollers can practice, get in touch via email (capitalcityrollersmedia [at] gmail [dot] com), on Facebook, on Twitter or through their website.
If you are interested in finding out more about them, The Capital City Rollers are having an open house on September 2 at 7pm in their current practice space, the Capital Winter Club at 232 Rookwood Avenue.
Second, an interview I recorded yesterday with Jean-Marc Simard, a friend of a local farmer who has a positive problem: too many blueberries on his U-Pick! We chat about picking blueberries and ways to eat them. Check out the Blueberry U-pick at 674 Tripp Settlement Road. It's not that far away, and at an amazing $3/quart, well worth the trip!
Music today:
Gloryhound with Loaded Gun from the album of the same name.
Zero Fire with Defend from their self-titled album.
Norma Macdonald with Blue as a Jay from her album Burn The Tapes.

Podcast: Play in new window | Download
Subscribe: Google Podcasts | RSS