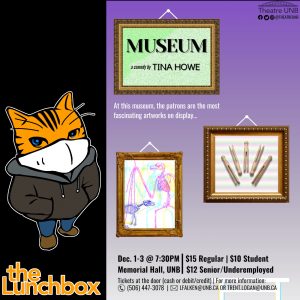 What is your view of the viewing of art? What matters more: the painting or the context?
Today I'm joined by Len Falkenstein (UNB Director of Drama; director), Ell Gignac (actor: Will) and Liam Johnson (actor: Bob) to chat about Theatre UNB's final production for the 2022 calendar year, Tina Howe's Museum.
We chat about how this farcical view of museum-goers keeps everyone's heads turning, with 21 actors portraying 40 roles, and how both art and the way we view art is a timeless question.
Tina Howe's Museum, opens December 1 at 7:30pm and runs nightly until December 3 at Memorial Hall on UNB campus, but you are invited to view the "museum" itself early, to get a closer look at what all these characters are going to be talking about.

Podcast: Play in new window | Download
Subscribe: Google Podcasts | RSS