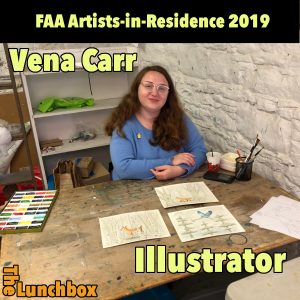 Illustration is often the ability to combine definite lines with indefinite colours to create scenes that never happened, but in the edge of your imagination, just might.
My guest today is Vena Carr, an illustrator who shares how her fun, whimsical images come from memories in the countryside, and how the layers of ink and watercolours combine together. She discusses her interest in illustrating children's books, starting with one she wants to write herself.
During the summer, the Fredericton Arts Alliance brings a pair of artists together in the Barracks to practice their art for all to see. These artists come from a wide variety of disciplines, from painting and sculpture to basket-weaving and writing. As each pair of artists comes in, we'll be talking to them on the Lunchbox.

Podcast: Play in new window | Download
Subscribe: Google Podcasts | RSS