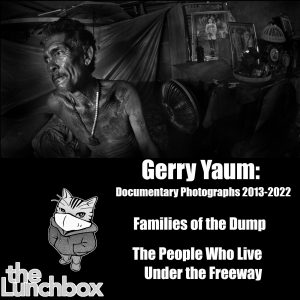 Despite the fact that we all see with our eyes, it sometimes take a well-chosen photograph to allow us to really see the world, and the see people. My guests is Gerry Yaum, a life-long amateur photographer, who has for several years been driven to photograph people in places most of might not care to think about. We talk about how he started in photography, what he looks for in pictures, and what his upcoming exhibit might show you, the audience, about the people he's met.
Gerry Yaum: Documentary Photographs 2013-2022: Families of the Dump/The People Who Live Under the Freeway opens on Friday, October 28 at 5pm at the UNB Art Centre in Memorial Hall, UNB. Gerry will be in attendance to talk about and show his photographs portraying daily life in the slums of Thailand.
The exhibit will be on display until December 15.

Podcast: Play in new window | Download
Subscribe: Google Podcasts | RSS