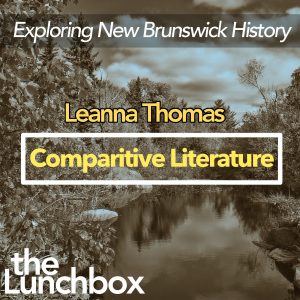 It's hard, sometimes, to see the impact our region has on the rest of the world — or how much in sync it is with what is happening half a world away.
My guest today is Leanna Thomas, a PhD student in UNB's History department. After a few random encounters with literature in Florida, she's found herself entering into a comparative analysis of francophone authors from across the world. Right now, she's been comparing authors Raymond Guy Leblanc (Acadian) and Sonny Rupaire (Guadeloupean), as well as Antonine Maillet (Acadian) and Simone Schwarz-Bart (Guadeloupean), and finding some interesting parallels.
How much do you think you know about New Brunswick history? Personally, I think we do a pretty bad job of teaching it, and most people don't embrace it. I'm on a mission to learn more, so I've invited a collection of historians to help me learn more about the legacies, the achievements, the battles, the inventions, the troublesome eras and the long past of one of Canada's oldest regions.

Podcast: Play in new window | Download
Subscribe: Google Podcasts | RSS | More