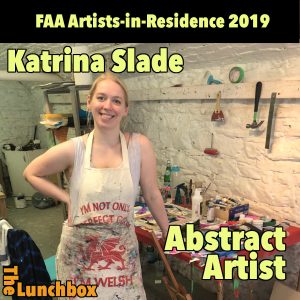 If art in general is a conversation between the artist and the viewer, abstract art is a conversation where the artist has left out half the words, but is smiling intently at your response.
My guest today is Katrina Slade, an abstract artist whose art and education journey has taken her around the world. She came to discover Fredericton as the new home that was always there. She helps me understand abstract art, and talks about her process of creation.
During the summer, the Fredericton Arts Alliance brings a pair of artists together in the Barracks to practice their art for all to see. These artists come from a wide variety of disciplines, from painting and sculpture to basket-weaving and writing. As each pair of artists comes in, we'll be talking to them on the Lunchbox.

Podcast: Play in new window | Download
Subscribe: Android | Google Podcasts | RSS