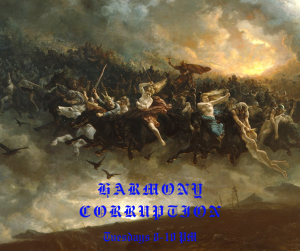 Hi Everyone!
Welcome back to Harmony Corruption. This week had lots of variety. We heard some Swedeath, industrial, NWOHBM, power metal, deathrash, doom and more. There was a number of bands that I had not played on this show which got play for the first time, as well as a few returning favourites. Make sure to comment on the Facebook post on the show's page (Facebook) to let me know which of these 4 bands you'd like to hear a discography deep dive on in two weeks. The options are Hypocrisy, Carcass, Bolt Thrower or Morbid Angel. Also make sure to tune in next week for the Doom in July special episode focused on doom metal.
Here's the tracklist for this week's episode:
Demolition Hammer-Skull Fracturing Nightmare
Entombed-Left Hand Path
Cryptopsy-Open Face Surgery
Godflesh-Locust Furnace
Morbid Saint-Beyond the Gates of Hell
Razor-Hot Metal
Witchfinder General-Free Country
Angel Witch-Gorgon
Riot-Thundersteel
Sodom-Body Parts
Sodom-The Crippler
Cancer-Back From the Dead
Coroner-Masked Jackal
Entombed-Full of Hell
Sacrifice-Warrior of Death
Sacrifice-Infernal Visions
Sacrifice-Pyrokinesis
Sacrifice-Pawn of Prophecy
Tomb Mold-Planetary Clairvoyance (They Grow Inside II) (Cerulean Salvation EP version)
Voivod-Inner Combustion
Sleep-The Druid
Trouble-Psalm 9
Thanks so much for listening! Make sure to tune in every Tuesday from 8-10 PM AST for more Harmony Corruption.

Podcast: Play in new window | Download
Subscribe: Google Podcasts | RSS | More