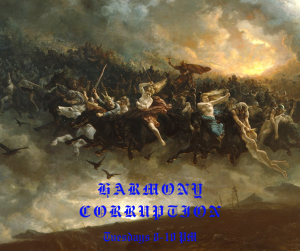 Hi Folks! Hope you've had a great week. This week as another variety show that featured some Halloween-themed tunes, some new material from a legendary death metal band, a Legally Blonde joke, a bit of grind and doom, and some discussion regarding upcoming releases in death metal, including Suffocation, Tomb Mold, Autopsy, Cruciamentum, Cannibal Corpse, Cryptopsy and more.
Here's the playlist for the week!
Possessed-The Exorcist
Possessed-Intro/The Heretic
Tomb Mold-Primordial Malignity
Dying Fetus-Unbridled Fury
Nuclear Assault-New Song
Megadeth-Looking Down the Cross
Helloween-I Want Out
Danzig-Anything
Dopethrone-Tweak Jabber
Cancer Bats-Lucifer's Rocking Chair
Cannibal Corpse-The Cryptic Stench
Undeath-Rise From the Grave
Immolation-Higher Coward
Incantation-Impending Diabolical Conquest
Dead Congregation-Morbid Paroxysm
Full Of Hell-Crawling Back to God
Haemorrhage-Dissect, Exhume, Devour…
Spectral Wound-Black Satanic Glamour
Spectral Wound-Feral Gates of Flesh
Abysseral Throne-With Haste for Damnation
Begrime Exemious-Crusade Towards Self-Devolution
Phobocosm-27 Days of Darkness
Frozen Soul-Beat to Dust
Mass Grave-No More
Power Trip-If Not Us Then Who
Make sure to tune in every Tuesday from 8-10 PM AST for more Harmony Corruption!

Podcast: Play in new window | Download
Subscribe: Google Podcasts | RSS | More