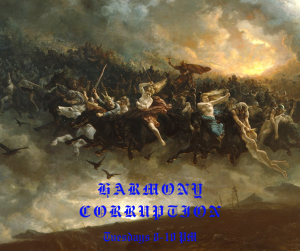 Hi Folks! Welcome back to Harmony Corruption. This week featured a bit more music than usual! The first quarter of the show or so was focused around material with clean vocals before getting into the heavier stuff. Some highlights include some Dianno era Iron Maiden, Mortillery (a great Canadian band), as well as some news regarding interviews coming up!
Here's the playlist for the week:
Yngwie Malmsteen's Rising Force-Rising Force
Iron Maiden-Another Life
Queensryche-The Needle Lies
Riot-Swords and Tequila
Riot-Johnny's Back
Pentagram-The World Will Love Again
Venom-Don't Burn the Witch
Tank-He Fell in Love With A Stormtrooper
Sodom-Procession to Golgatha/Christ Passion
Cancer Bats-Pray for Darkness
Seventh-Premonition
Pseudogod-Vehement Decimation
Vader-Cold Demons
Opprobrium-Voices From the Grave
Hypocrisy-Fire in the Sky
Kataklysm-In Shadows and Dust
Null Moon-Beyond Recognition
Null Moon-Deafened
Adversarial-Immersion Void Paragon
Adversarial-Eonik Spiritual Warfare
Rammer-Rust and Paranoia
Mortillery-Murder Death Kill
Brutal Truth-Anti-Homophobe
Napalm Death-Mentally Murdered
Hypocrisy-Eraser
Thanks again for listening. Make sure to tune in next week from 8-10 PM for more Harmony Corruption!

Podcast: Play in new window | Download
Subscribe: Google Podcasts | RSS | More