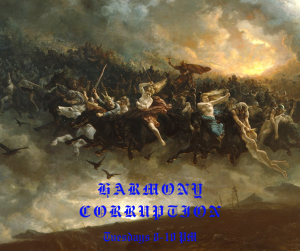 Hi Everyone!
Welcome back to Harmony Corruption. This was the second episode of the show, and we got some classics this week! We heard from Tank, in honour of the late, great Algy Ward, as well as some Swedish death metal. Hope you enjoyed the show, and make sure to tune in to Harmony Corruption every Tuesday from 8-10 PM.
Here's the playlist for the week:
Hypocrisy-End of Disclosure
Grave-You'll Never See
Tank-Don't Walk Away
Black Sabbath-Disturbing the Priest
Infester-Chamber of Reunion
Eyehategod-Left to Starve
Cancer Bats-Psychic Jailbreak
Emperor-With Strength I Burn
Spectral Wound-Fair Lucifer, Sad Relic
Wormwitch-The Wolves of Ossory
Wormwitch-Abracadabra
Dying Fetus-Praise the Lord (Opium of the Masses)
Exciter-Scream in the Night
Exciter-Heavy Metal Maniac
Hypocrisy-Inseminated Adoption
Savatage-White Witch
Thanks for listening!

Podcast: Play in new window | Download
Subscribe: Google Podcasts | RSS | More