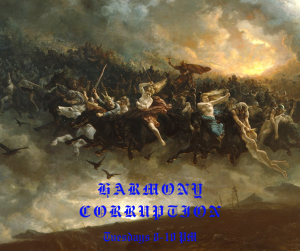 Hi Folks!
Welcome back to Harmony Corruption. This week's episode featured an interview with Null Moon! They're a local band from Fredericton. They'll be playing at the Broken Record next week on October 6th. Go check 'em out! Otherwise, this episode featured a number of songs from bands that Null Moon has cited as inspiration. As well, a few other picks by Null Moon from the lightning round of the interview. Enjoy!
Here's some links for more info and music released by Null Moon:
Music | Null Moon (bandcamp.com)
Null Moon – Encyclopaedia Metallum: The Metal Archives (metal-archives.com)
Here's the Playlist for the week:
Entombed-Demon
Grave-Haunted
Demigod-Slumber of Sullen Eyes
Demigod-Toward the Shrouded Infinity
In Flames-Ordinary Story
Stormruler-Fear the Old Blood
Altarage-Drainage Mechanism
Null Moon-Left Incomplete
Null Moon-Beyond Recognition
Null Moon-Banshees
Null Moon-Black Bile
Autopsy-Service For a Vacant Coffin
Asphyx-Diabolical Existence
Prowl-Madness
Cryptopsy-Slit Your Guts
Cryptopsy-Graves of the Fathers
Vile Ritual-Black Chrism
Pig Destroyer-Hyperviolet
Rainbow-Kill the King
Slayer Necrophiliac
Hope you enjoyed! Make sure to tune in next week for more Harmony Corruption on CHSR FM from 8-10 PM every Tuesday.

Podcast: Play in new window | Download
Subscribe: Google Podcasts | RSS | More