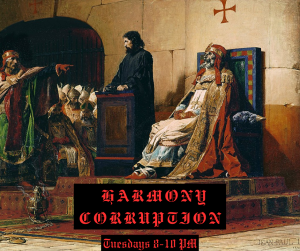 Hi Folks!
Welcome back to Harmony Corruption. This week was another variety show. It starts with some lighter material before getting into the heavy stuff. We also heard from some bands that hadn't been played on the show before!
Stay tuned for next week's episode with special guest Stephanie, who will be joining me to talk about some of our favourite metal bands and nerd out over some great metal! As well, in two weeks, I will be interviewing Cirith Ungol's own Robert Garven in anticipation of their new album Dark Parade (Out Oct. 20th). Make sure not to miss that one!
Here's the playlist for the week!
Tank-Hammer on
Motorhead-Love Me Forever
Motorhead-I'm So Bad (Baby I Don't Care)
Black Sabbath-Die Young
Roky Erickson-Two Headed Dog (Red Temple Prayer)
Venom-Nightmare
Black Sabbath-Zero the Hero
Razor-Instant Death
Razor-Gatecrasher
Celtic Frost-Circle of the Tyrants
Possessed-Tribulation
Yautja-The Spectacle
Vile Ritual-Aimless
Cannibal Corpse-Drain You Empty
Phobocosm-Solipsist
Prowl-Fury
Prowl-Foolish Behaviour
Razor-Violence Condoned
Insect Warfare-Mind Ripper
Insect Warfare-Armored Virus
Mass Grave-Still Here
Archagathus-The Night Wolf
Mass Grave-L.S.D.O
Voivod-The Helldrive
Overkill-Hammerhead
Coffincraft-Necrostation
Black Sabbath-Lonely is the Word
Thanks again for listening!

Podcast: Play in new window | Download
Subscribe: Google Podcasts | RSS | More