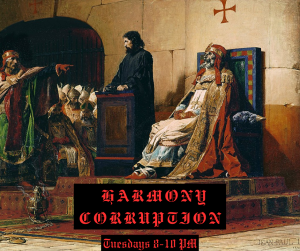 Hi Everyone! Welcome back to Harmony Corruption. This week features an interview with Robert Garven from Cirith Ungol, where we talked about the new album "Dark Parade" and lots more. Additionally, I briefly touched on the recent news regarding the Bandcamp layoffs as well. We also heard new material from Voivod, Vortex, Striker, Ken Mode and Cirith Ungol!
Here's the playlist for the week:
Cirith Ungol-Blood and Iron
Mercyful Fate-A Corpse Without Soul
Dismember-I Saw Them Die
Demolition Hammer-Gelid Remains
Striker-Best of the Best of the Best
Cirith Ungol-Frost Monstreme
Cirith Ungol-Velocity (S.E.P)
Cirith Ungol-Stormbringer
Cirith Ungol-Edge of a Knife
Ken Mode-Painless
Ken Mode-I Cannot
Timeghoul-Infinity Coda
Spectral Wound-Slaughter of the Medusa
Vortex-The Fool
Decapitated-Way to Salvation
Voivod-Nuage Fractal
Thanks so much for listening! Make sure to tune in next week from 8-10 PM AST for more Harmony Corruption. Next week's episode will feature Stephanie from CHSR joining me to talk about our favourite Canadian bands!

Podcast: Play in new window | Download
Subscribe: Google Podcasts | RSS | More