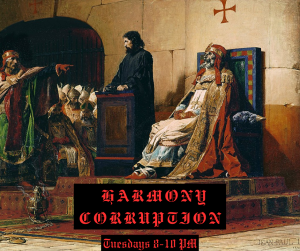 Hi Everyone! Welcome back to Harmony Corruption on CHSR-FM! This week featured Stephanie as my co-host for a very special episode focusing on Canadian metal! We also chatted a bit more about the Bandcamp layoffs, which bands belong on the Mt. Rushmore of Canadian thrash and speed metal and just nerded out about some great metal! We also chatted about what I deem "Skronk metal."
Here is the playlist for the week!
Annihilator-Alison Hell
Woods of Ypres-Lightning and Snow
Mortillery-Despised by Blood
Sacrifice-Anthem (Rush Cover)
Sacrifice-Reanimation
Razor-Evil Invaders
Voivod-Korgull the Exterminator
Infernal Majesty-None Shall Defy
Piledriver-Metal Inquisition
Goat Horn-Rotten Roll
Gorguts-Drifting Remains
Slaughter-F.O.D (Fuck Of Death)
Exciter-Heavy Metal Maniac
Thanks again for tuning in! Make sure to tune in next week for more Harmony Corruption on CHSR!

Podcast: Play in new window | Download
Subscribe: Google Podcasts | RSS | More