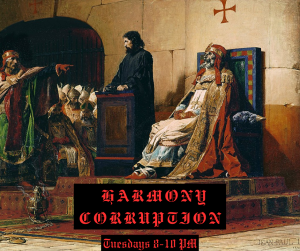 Hi Folks!
Welcome back to Harmony Corruption. This week was another variety show with lots of tunes from bands I haven't played before on the show. This week had some crossover, some grindcore, meaning a great mix of metal overall. Also random mentions of Kate Bush, HMV, more talk about my love of streaming services and lots more. Make sure to tune in this week and next for the interview with Paranormal Arson and the Grindstravaganza 2.
Here's the playlist for the week:
Axxion-Crazy Nights
Bruce Dickinson-King in Crimson
Manilla Road-Flaming Metal System
Sarcofago-Satanic Terrorism
Sarcofago-The Phantom
Agalloch-The Astral Dialogue
Batushka-????? III
Phobocosm-Solar Storm
Adversarial-Old Ruins Slumber in a Crushing Hatred of Man
Bathory-Born for Burning
Bathory-Reaper
Carcass-Reek of Putrefaction
Infernal Majesty-S.O.S.
Cro-Mags-Street Justice
Corrosion of Conformity-Holier
Amorphis-Greed
Kataklysm-Serenity in Fire
Internal Rot-Aporia
Brutal Truth-Black Door Mine
Soil of Ignorance-Raw Power Grind
Mass Grave-Mountains of Waste
Ion Dissonance-You're Not Carving Deep Enough
Torchure-Abysmal Malevolence
Black Sabbath-Turn Up the Night
Begrime Exemious-This Time It's War
Thanks again for listening!

Podcast: Play in new window | Download
Subscribe: Google Podcasts | RSS | More