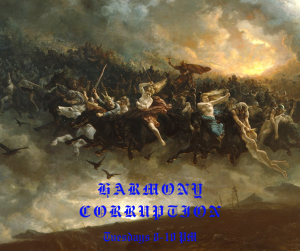 Hi Everyone!
Welcome back to Harmony Corruption. This was the third episode of the show, and we heard lots of Bathory this week! We had music from all around the world. Bands from Sweden, Poland, Canada, Finland, the UK, and the US all got play this week. Hope you enjoyed the show, and make sure to tune in to Harmony Corruption every Tuesday from 8-10 PM.
Here's the full playlist:
Bathory-Father to Son
Bathory-One Rode to Asa Bay
Vader-Dark Age
Outre-Tombe-Haruspex
Excruciate-Passage of Life
Thergothon-Everlasting
Artillery-By Inheritance
Iron Maiden-Alexander the Great
Bathory-Equimanthorn
Dayglo Abortions-Scared of People/Black Sabbath
Dystopia-Sleep
Outre-Tombe-Vengeance Spectrale
Wormwitch-Hit the Lights
Blood Incantation-Chaoplasm
Wormwitch-Even the Sun Will Die
Wormwitch-Canadian Denim Mountain Attack
Thanks for listening! Hope you all come back to listen next week.

Podcast: Play in new window | Download
Subscribe: Google Podcasts | RSS | More