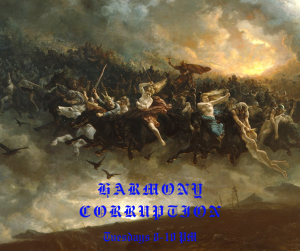 Hi Everyone!
Welcome back to Harmony Corruption. This was the fourth episode of the show and I wanted to play some newer stuff this week! I played one off Frozen Soul's latest album "Glacial Domination," as well as a track off Innumerable Forms' latest release. Also heard some Gravesend, Inter Arma, Blood Incantation and lots more. I also played my favourite Judas Priest song, and it's a bit of a deep cut! Hope you enjoyed the show, and make sure to tune in to Harmony Corruption every Tuesday from 8-10 PM.
Here's the full playlist for the week!
Exciter-Cry of the Banshee
Thorns-Stellar Master Elite
Gravesend-Trinity Burning
Judas Priest-Pain and Pleasure
Darkthrone-Rust
Eyehategod-Blank
Inter Arma-Citadel
Blood Incantation-Vitrification of Blood (Part I)
Blood Incantation-Starspawn
Innumerable Forms-Thrall
Frozen Soul-Arsenal of War
Carnage-Dark Recollections
Dystopia-Socialized Death Sentence
Dayglo Abortions-Ronald McRaygun
Dayglo Abortions-I'm My Own God
Infernal Majesty-Pestilential Eternity
Infernal Majesty-One Who Points to Death
Cancer Bats-The Hoof
Cancer Bats-Friday Night
Candlemass-Black Stone Wielder
Thanks for listening, hope you tune in next week.

Podcast: Play in new window | Download
Subscribe: Google Podcasts | RSS | More