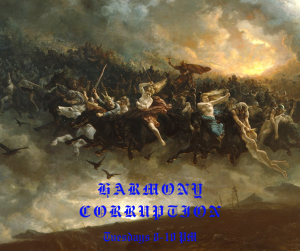 Hi Everyone!
Welcome back to Harmony Corruption! This was episode 6 of the show, and I played some of my favourites this week! This was a bit of a shorter episode this episode, so a few less songs than usual, but still a great playlist! We heard 2 tracks from Carcass, one of my favourite Celtic Frost songs, as well as a fantastic Fleetwood Mac cover by Judas Priest. We heard bands from Germany, Switzerland, the UK, US, Canada, Norway and Sweden. Make sure to tune in for Harmony Corruption every Tuesday from 8-10PM.
Here's the playlist for the week:
Razor-The Marshall Arts
Samael-Black Trip
Kreator-Riot of Violence
Slaughter-Incinerator
Celtic Frost-Dethroned Emperor
Carcass-Exhume to Consume
Carcass-Excoriating Abdominal Emanation
Autopsy-Hand of Darkness
Suffocation-Surgery of Impalement
Exciter-Rain of Terror
Voivod-Macrosolutions to Megaproblems
Judas Priest-The Green Manalishi (With the Two-Pronged Crown) (Peter Green's Fleetwood Mac cover)
Razor-Hot Metal
Gorguts-Obscura
Darkthrone-Quintessence
Hypocrisy-Roswell 47 (Live)
Overkill-Powersurge
Thanks so much for listening! Hope you tune in next week.

Podcast: Play in new window | Download
Subscribe: Google Podcasts | RSS | More