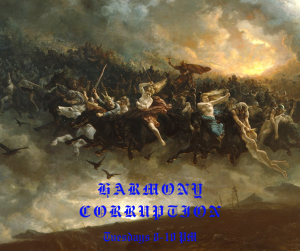 Hi Everyone! Welcome back to Harmony Corruption. This week, long songs seemed to be the theme! We heard some classics off of Death's Leprosy, Darkthrone's A Blaze in the Northern Sky, Morbid Angel's Covenant and more. There may have even been a Game of Thrones joke and a Mortal Kombat joke. Hope you enjoyed listening, make sure to tune in next week for more metal on Harmony Corruption! Airs every Tuesday from 8-10 PM AST.
In addition to the usual playlist, feel free to check out the Facebook page for Harmony Corruption linked here: Facebook
Here's the playlist for the week:
Death-Pull the Plug
Judas Priest-Rock Hard Ride Free
Bathory-Enter the Eternal Fire
Darkthrone-Kaatharian Life Code
Immortal-At the Heart of Winter
Celtic Frost-A Dying God Coming into Human Flesh
Cancer Bats-Arsenic in the Year of the Snake
Overkill-Playing with Spiders/Skullkrusher
Overkill-Fatal if Swallowed
Slaughter-Disintegrator
Cancer Bats-All Hail
Voivod-Ripping Headaches
Razor-Hypertension
Razor-Evil Invaders
Morbid Angel-The Lion's Den
Thanks so much for listening!

Podcast: Play in new window | Download
Subscribe: Google Podcasts | RSS | More