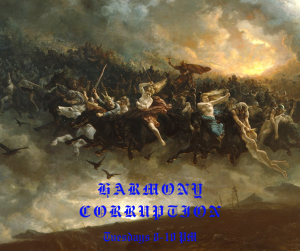 "No Speed, No Punk!"-Skitsystem
Hi Everyone! Welcome back to Harmony Corruption. This week, it was all grind, all the time! In roughly 4 years of working in radio, I've never played over 30 songs in a show. This week, I played 50 songs in 2 hours! We heard from Singapore's Wormrot, Carcass, Napalm Death and Bolt Thrower from the UK, Terrorizer and Brutal Truth from the US and lots of Archagathus and some Slaughter from Canada. Make sure to tune in on July 25th to hear the counterpoint to the Extravagrindza, none other than a Doom in July doom metal special! Here's the tracklist for this week.
Cryptopsy-Crown of Horns
Carcass-Genital Grinder/Regurgitation of Giblets
Dystopia-Green Destroyed
Necrojinn-11
Archagathus-Society's Dinner
Pig Destroyer-Strangled with a Halo
Begrime Exemious-Supposed to Rot (Entombed cover)
Agoraphobic Nosebleed-Doctored Results
Agoraphobic Nosebleed-Dead Battery
Brutal Truth-Walking Corpse (Perpetual Conversion EP version)
Caustic Wound-Blast Casualty
Caustic Wound-Cemetery Planet
Gravesend-Verrazzano Floater
Mortician-Eaten Alive by Maggots
Carcass-Feast on Dismembered Carnage
Wormrot-Compulsive Disposition
Archagathus-Intro/Mincecore Fabio
Archagathus-Perennial Loser
Archagathus-System: What?
Archagathus-Soap a Dope
Archagathus-A Stupid Question
Magrudergrind-Spicy Delight
Magrudergrind-The 2nd Wave
Discharge-Does This System Work
Wormrot-The Final Insult
Terrorizer-Need to Live
Brutal Truth-Ill Neglect
Gatecreeper-Rusted Gold
Gatecreeper-Amputation
Magrudergrind-My Inner Self is Telling Me That Something in this Room is at its Unintelligent High Point
Cryptopsy-Gravaged (A Cryptopsy)
Slaughter-The Curse
Dystopia-Control All Delete
Sacrifice-Decapitation
Napalm Death-How the Years Condemn
Napalm Death-Lucid Fairytale
Nails-You Will Never Be One Of Us
Napalm Death-Instinct of Survival
Napalm Death-Scum
Brujeria-Matando Gueros
Repulsion-Festering Boils
Bolt Thrower-Eternal War
Archagathus-Brain: Dead?
Cryptopsy-Lichmistress
Sacrifice-Possession
Archagathus-Canadian Hoser
Kataklysm-Once…Upon Possession (Chapter II-Legacy of Both Lores)
Dying Fetus-Kill Your Mother…
Cryptopsy-Orgiastic Disembowelment
Hope you enjoyed the show! Have a great week and make sure to tune in again next week from 8 PM to 10 PM AST.
Go like the Harmony Corruption Facebook Page, linked here:

Podcast: Play in new window | Download
Subscribe: Google Podcasts | RSS | More