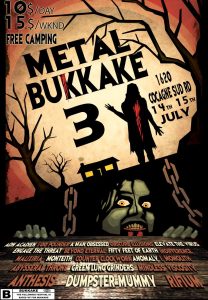 Episode 9! On this show we talk about the Metal Bukkake happening this weekend in Cocagne, NB, the upcoming Cattle Decapitation tour, the East Coast Music Association and Rick and Morty.
Song of the Week: Foretold – No Man's Throne
Check it out here: https://nomansthrone.bandcamp.com/track/foretold
Tune in this coming Monday from 10-11:30pm on CHSR-FM for our next episode with Sean's band Malixiria.

Podcast: Play in new window | Download
Subscribe: Google Podcasts | RSS | More