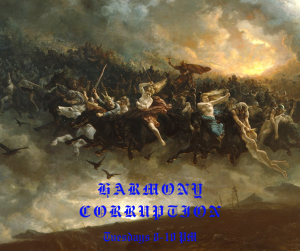 Hi Everyone! Welcome back to episode 8 of Harmony Corruption. This week, I figured I'd celebrate July 1st and July 4th by playing all American bands for the first half of the show, then all Canadian material for the back half (minus one Judas Priest track). We heard lots of Floridian death metal this week, with a few ventures up to New York. I also snuck in a little teaser for next week's grindcore extravaganza near the end of the show. Hope you have a great week! Go check out the Harmony Corruption Facebook page and feel free to like and leave comments if you'd like to hear anything in particular!
Here's the tracklist for the week:
Judas Priest-Race With the Devil (The Gun Cover)
Slayer-Piece by Piece
Morbid Angel-Invocation of the Continual One
Immolation-Those Left Behind
Death-Denial of Life
Brutality-Exposed to the Elements
Morbid Angel-Angel of Disease
Death-Spirit Crusher
Deicide-Blaspherereion
Death-Overactive Imagination
Nocturnus-Lake of Fire
Gorguts-Stiff and Cold
Tomb Mold-Gored Embrace (Confronting Biodegradation)
Tomb Mold-Heat Death
Abysseral Throne-Storming the Black Gate
Gorguts-Considered Dead
Gorguts-Le Toit du Monde
Archagathus-Hey Metallica
Caustic Wound-Autonomous Weapons System
Thanks for tuning in! Make sure to tune in every Tuesday from 8PM-10PM AST on CHSR FM for more Harmony Corruption.

Podcast: Play in new window | Download
Subscribe: Google Podcasts | RSS | More