Hello everyone.
Welcome to Episode 19 of Testing For Echo on CHSR 97.9 in Fredericton and around the world. I'm your host Tim Scammell.
It's my feeling that the best episodes are the ones that go all over the place and keep listeners guessing.
Sure, I'm talking about the heavy/light mix but also the mix of eras.
In this episode I have everything from the 1970's right up to the present.
I understand that this is impossible, but if you could get all of these bands together to play a festival it would be a home run.
Just press that little arrow down the left of the page to listen/download the podcast. 
Take good care and enjoy!
Tim
"The World of Music, One Song at a Time"
Episode Song List
The Jelly Jam – Allison
Gary Numan – Saints and Liars
SAGA – Solsbury Hill
Animals As Leaders – Micro Aggressions
Robert Plant – Angel Dance
Not Now – Out of Control
Bryan Ferry – All Along the Watchtower
RUSH – Countdown
Frank Zappa – Camarillo Brillo
King Crimson – Matte Kudasai
Triumph – Allied Forces
Camel – Air Born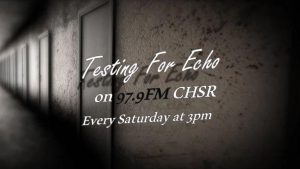 Podcast: Play in new window | Download
Subscribe: Google Podcasts | RSS | More