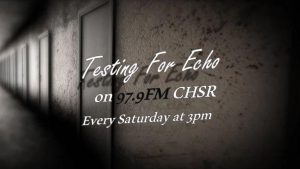 Hi again everyone.
Welcome to Episode 29 of Testing For Echo on CHSR 97.9 in Fredericton and around the world. I'm your host Tim Scammell.
I've dug into some older stuff that we haven't heard in a while and thrown in some cool new ones.
Please enjoy!
Just press that little arrow down the left of the page to listen/download the podcast. 
Take good care,
Tim
"The World of Music, One Song at a Time"
Episode Song List
Tool – Chocolate Chip Trip
Genesis – Deep in the Motherlode
RUSH – Caravan
Saga – The Interview
Frank Zappa – Wind Up Workin' in a Gas Station
Triumph – When the Lights Go Down
Polyphia – Neurotica
Kansas – Dust in the Wind – LIVE
King Crimson – Nuages
Nightwinds – Crude Exports
Lifesigns – Altitude Reprise
Penguin Café Orchestra – The Ecstasy of Dancing Fleas
Nash the Slash – Medley by Mark Favro

Podcast: Play in new window | Download
Subscribe: Google Podcasts | RSS | More