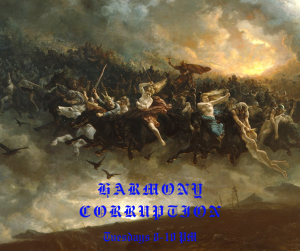 Hi Everyone!
Welcome back to Harmony Corruption. This week was the Doom in July special! This episode was focused on low, slow and doomy metal from places like the UK, Finland, and the US. There was also a brief visit to Canada for some old school speed metal and even a teaser for the band getting a discography deep dive next week!
Here's the playlist for the week:
Black Sabbath-Lord of this World
Pentagram-Broken Vows
Candlemass-Samaritan
Witchfinder General-Witchfinder General
Electric Wizard-I, The Witchfinder
Sleep-Holy Mountain
Cathedral-Jaded Entity
Incantation-Deliverance of Horrific Prophecies
Asphyx-M.S. Bismarck
Rippikoulu-Pimeys Ylla Jumalan Maan
Winter-Servants of the Warsmen
Dayglo Abortions-Here Today Guano Tomorrow
Exciter-Smashin 'em Down
Sacrifice-A Storm in the Silence
Anvil-Metal on Metal
Anvil-Mothra
Exciter-Stand up and Shout
Archagathus-Insanity Dog
Morbid Angel-Immortal Rites
Thanks again for listening! Make sure to tune in next week from 8-10PM AST!

Podcast: Play in new window | Download
Subscribe: Google Podcasts | RSS | More