I'd like to think that we've lightened up this show a little bit.
I've also raised the level of class with one of music's classiest dudes, Bryan Ferry.
Plus, Kate Bush has defined classy for years.
A local chap Marcello Ciurleo has reached out to me with some great songs he has done. I've included one in this episode. I think you'll like it.
One thing you're going to notice is that I have 3 station IDs done by others.
Gerald O'Brien of Nightwinds is at the top and is a forever friend of the show.
John Young of Lifesigns has sent me so many great songs.
The last one is Alan Cross. If you don't know Alan Cross, you should get to know him. his web site is here https://www.ajournalofmusicalthings.com/. I have been listening to Alan on the radio and internet for decades and he is a music encyclopedia. He is a professional in every sense of the word. Plus, he's a really nice guy who didn't think twice about doing the ID for me.
I'm really enjoying this show and feel that it's becoming more natural.
Don't forget that the show has a Facebook page at https://www.facebook.com/TestingForEchoCHSR/ .
Please feel free to contact me at TestingForEchoCHSR [at] gmail [dot] com with any thoughts, opinions, requests etc. 
I'd love to find out what people are thinking of this show. Contact me.
Oh, to appease a friend I'd like to point out that RUSH was greatly influenced by Led Zeppelin but have also mentioned King Crimson as well. I mention Heatwave Festival from 1980 when I saw Talking Heads and Adrian Belew was a member. Just before he joined King Crimson.
Episode Song List
Bryan Ferry – Let's Stick Together
Kate Bush – King Of The Mountain
FM – Aldebaran
Al DiMeola – Broken Heart
The Moody Blues – My Song
Lifesigns – Impossible
Tangerine Dream – Leviathan
The Light of Day – Marcello Ciurleo
Saga – Only Time Will Tell
Rush – Distant Early Warning Live R40
Gentle Giant – Knots
Stay Well,
Tim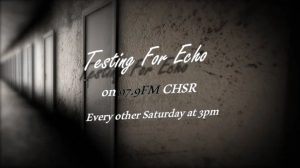 Podcast: Play in new window | Download
Subscribe: Google Podcasts | RSS | More