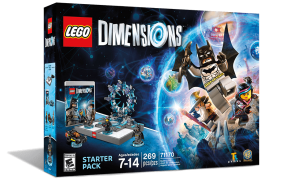 Warner Brothers brings out another Lego game but with a huge twist. Does it prevail or get stuck in a time loop? Let's find out.
Story: Warner Brothers brings us Lego Dimensions, a game that features iconic pop culture, movie, TV, and video game characters by putting them all into one game where there paths cross and the must work together. You start off with the starter pack of characters that include Batman, Gandalf (Lord of the Rings), Wyldstyle (Lego Movie), and Supergirl (bonus on the ps4). These characters join together to stop Lord Vortech from merging all of the universes for him to control. You must build the portal with actual Lego pieces and place the four characters on the on the holders and then putting the holders on the portal platform which makes the characters appear in the game.
Gameplay: This is not your typical Lego game; with other Lego games you are stuck in one universe, with Lego Dimensions you start each level by jumping into a vortex taking you to a famous level inspired by movies, television or video games such as The Wizard of Oz, The Simpsons (Which blew my mind), Back to the Future and so much more. With every level, there seemed to be a pattern of solving puzzles with certain characters, a boss fight at the end of the level, but the game forces you to utilize the portal to solve puzzles and defeat bosses. The only thing that really bugged me about this game was the hire a hero aspect, where in order to get a collectible or to do a certain action you have to spend 50,000 Lego pieces to hire a hero for only a minute which is really unfortunate.
Verdict: Lego Dimensions is a game I anticipated to grow tired of very quickly, but it was extremely enjoyable; the gameplay, dialogue, and humor that came with it especially in each universe like the Simpsons and Back to the Future made this a uniquely enjoyable game. The fun does not end there: Adventure Time, Ghost Busters, Mission Impossible and Scooby Doo are just some of the worlds that players can experience through Lego Dimensions. This game is not just for kids but for all ages, so that they can visit the worlds they grew up with and, it has me hooked.
Lego Dimensions 9.5/10
A must buy.
Reviewed by ICE at Gamers of the Round Table