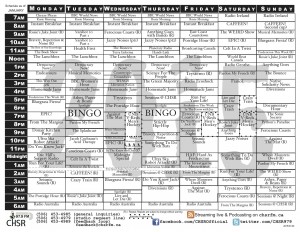 We've added quite a few shows in the last week, and few have been quietly added over the last few months, so I figured it was time to let everyone know what they're missing!
Rosie Morning (starting February 2) [M-F 7:30am-8:00am]: the host of Rosie's Juke Joint brings you a relaxed start to every weekday morning!
Instant Breakfast [M-F 8:00am-9:00am] – Tim Rayne returns to his morning show, bringing you a range of special guests and great music, including Vinyl Mondays.
The Donair Kitchen Party (starting February 2) [M 9:00pm-10:00pm]: music to eat donairs to. No, seriously.
The Splashcast [Tu 9:00pm-10:00pm]: basketball talk
Trystereo [W 5:00pm-6:00pm]: an eclectic mix of indie music.
WMD After Dark [W 10:00pm-10:30pm]: the crew of Where Monsters Dwell challenge you to a rapid debate of pop culture.
Something To Do With Bats [Th 10:30pm-12:30am]: your late-night industrial mix.
In The Know With Joe [F 6:30pm-7:00pm]: poking fun at what we don't seem to know, then filling in the gaps.
Ferocious Coasts [F 7:00pm-8:00pm]: music from your own backyard (and similar backyards).
Live and Let Die [Sat 5:00pm-6:00pm]: Bondo takes a trip through her favourite classic rock records.
The Bounce [Sun 2:00pm-3:00pm]: bringing you all the campus sports and more!