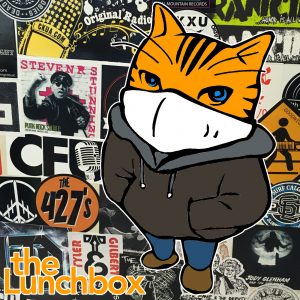 On today's show:
Proof that the feline fundamentals of the web are true: it's both Internet Day and Cat Day. I rest my paws. HANDS. I rest my hands.
Lainie B from Monday night's B Street comes through with another installment of Positive Songs For Pandemics. This time, it's Hawksley Workman's Around Here.
CONGRATULATIONS TO CHSR'S OWN ERIN BOND! Erin was recognized at Prix MusicNB Awards as the HARDEST WORKING PERSON OF THE YEAR for 2020! The ongoing celebration continues with Bondo's Pick of Hey Major's song Brother.
My own choice of music today was Tupperware Remix Party, aka TWRP, and The Droids You're Looking For.
We continue to look back at this fall's Word Feast, with the chair of this year's convention, Jo-Anne Elder talking about an event near and dear to her own heart, Translation.
News updates:
New Brunswick public health reported three new cases of COVID-19 yesterday afternoon.

Matthew Vincent Raymond continued testimony at his own trial yesterday where the court heard his activities days before the shooting.

New Brunswick seafood giant Cooke aquaculture has purchased Massachusetts based company Mariner Seafood.

The New Brunswick RCMP says a 39-year-old Dieppe man has been arrested after a drug raid.

Good news for motorists this week as the price of gas dropped by a few cents.

The chair of the New Brunswick Human Rights Commission says mandatory mask rules don't violate any section of the Human Rights Act.

And Prime Minister Justin Trudeau got straight to the point during a COVID-19 press conference this week.

Podcast: Play in new window | Download
Subscribe: Google Podcasts | RSS