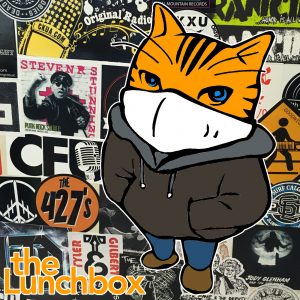 On the show:
It was Sandwich Day, Candy Day and Jellyfish Day, but I don't suggest you combine those together directly…
You bet your bottom dollar, it's Cliche Day. This is the only day where they cannot be objected to, so make the most of it.
Today was Japanese Culture Day, a day to celebrate their contributions to music, art, literature, philosophy and more!
And, of course, it's United States Election Day. Wish our neighbours well; it's been a trying time, and this might signal a positive change.
Feature presentation:
I released an audio drama that I produced on Friday (What Was It?), but that meant that I wasn't able to repeat my celebration of the day interview with Jack Ward of Mutual Audio Network and The Sonic Society from 2014. So, here it is!
And coming up on November 27 at The Charlotte Street Arts Centre will be the album release for Sleepy Driver Presents Northeastern Chorus. I spoke to Peter Hicks about this project earlier this year. I also included a couple of tracks from the album: Bar Nuts and Sauvignon Blanc and The Last Chord.
Upcoming Events:
It's the last chance to catch Dinner and a Show: "Let's Fall In Love", a production of Spearhead Theatre Company at 5:30pm in Maxwell's at The Crowne Plaza-Lord Beaverbrook. It's a bubble table of 4 people. with a 4-course meal and a play featuring Jacob Martin and Kelly McAllister as two friends who met on a dating app just before the pandemic hit. Get your tickets quick on EventBrite.
Unfortunately, the final performance of the other Dinner and a Show: "Know Brunswick?" has been cancelled for this Wednesday night.
News updates:
New Brunswick Public Health reported no new cases of COVID-19 yesterday afternoon.

Matthew Vincent Raymond insists he didn't stage evidence about his delusions at his trial yesterday.

A ribbon-cutting was held in St. Stephen this weekend to celebrate the first two-kilometres of the Coastal Link Trail Project.

RCMP is turning to the public for help locating two missing 15-year-olds from Miramichi.

The already-postponed Jeux de l'Acadie Finals could end up being pushed back another year.

Ottawa is spending another $204-million to help First Nations deal with the pandemic.

And after months of campaigning, American voters will learn who will be president for the next four years.

Podcast: Play in new window | Download
Subscribe: Google Podcasts | RSS