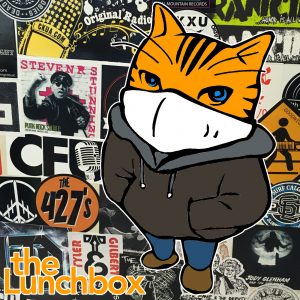 Feature:
The second week of the latest TheatreUNB production is upon us, so I thought it would be a good idea to remind you of the kind of strange, wonderful plays await you! We return to my chat with UNB Theatre Program Director (and grand Poobah of Theatre in Fredericton!) Len Falkenstein and two of his student/director/actors  Emily Darling and Chris Rogers. The second part of the theatre productions start on Wednesday and run until Friday, and the opportunity to (re-)watch all of the plays in your own order and at your own place is available on Saturday and Sunday.
Since it's Jazz Appreciation Month, I thought I'd feature some cool tunes for my first April show! We hear a cover Blue Skies by French band Les Doigts de L'Homme and the title track from the album Kitchuses by Ouroboros.
Remember that tomorrow's show is the last new STU Lunchbox for the season! Tune in to hear reflect on what a year it's been in education with Online Learning Graded.
News Headlines:
New Brunswick Public Health reported 10 new cases of COVID-19 yesterday afternoon.
A New Brunswick First Nation is identifying two fishers who are dead or missing after a boat capsized off the coast of Cape Breton.
A 34-year old woman has been charged with second-degree murder in the death of Christopher Dedam in Esgenoôpetitj First Nation.
Canadian Forces Base Gagetown's annual Grass Burning Program started yesterday.
The Maritime Junior Hockey League is postponing four more games in the Eastlink North division thanks to COVID-19 restrictions in Edmundston.
A new report from Statistics Canada shows around 80 per cent of Canadians want at least half of their work hours to be at home after the pandemic is over.
And Health Canada is telling all provinces and territories to stop using certain disposable masks used in schools, daycares and health care settings.
Upcoming Events:
Tuesday (6):

Free night! Go for a walk!
Friday (9):
Saturday (10):

Cunningham/Haines

, Dolan's Pub, April 10, 9:30pm [MAYBE]

Butler's Marsh

, Open Space Theatre, April 9/10/11, 7:30pm

Choose Your Own Adventure TomorrowLove

(April 10-11, noon, 24 hours to watch)

GIN & JAZZ with music BRIDGE.

Southside Shake. April 10, 7pm

Mike & Mel

, Crabbe Mountain Inn, April 10, 7pm

The Don Bosse trio feat. Joel Miller on Sax, The Tipsy Muse Cafe, April 10, 7pm
Stephen Lewis Big Fun Duo

, The Cap, April 10, 7pm, 10pm

Dapper Dan & The Drive-in Classics

, Grimross, April 10, 8pm

Sunday (11):

Podcast: Play in new window | Download
Subscribe: Google Podcasts | RSS | More