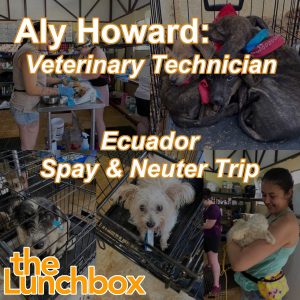 My guest today is Aly Howard, a local veterinary technician who has been nationally recognized for her hard work and dedication. In addition to chatting about how this profession found her and what is involved, we discussed her plans to fundraise for an upcoming mission to Ecuador. This trip will help spay and neuter local animals to help with population control and disease prevention.
You can find out more about the upcoming trip to Ecuador on their Facebook page, and contribute either by attending one of their fundraisers or through their GoFundMe page.
There will be a fundraiser on February 5 at the Oromocto Veterinary Hospital from 10am to 3pm. This will be a Valentines Day Pet Photoshoot with professional photographer Gary Weekes. Photographs will be by donation, minimum $25.

Podcast: Play in new window | Download
Subscribe: Google Podcasts | RSS