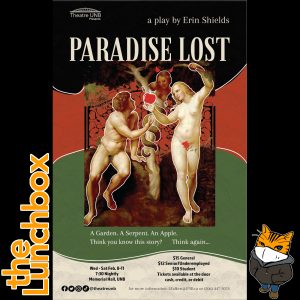 There are few stories bigger and more epic than origin myths about the universe, life and everything. It can be surprising that they can fit on a stage.
My guests today are all involved in the upcoming TheatreUNB production of Paradise Lost, an adaption of the classic epic poem by John Milton written by Candian playwright Erin Shields. Len Falkenstein is the Director of Drama at UNB and director of the play (as well as lovingly dubbed "The Grand Poobah of Theatre in Fredericton" by me). Camryn Caudet plays Lucifer, and has built her own wings and horns as part of her costume. Shelby Gilley plays as both the angel Uriel and the demon Mammon.
I spoke them about how they felt taking on such epic roles, as well as the impact the adaption has. You'll also here a scene between a disguised Lucifer and the innocent Uriel.
Oh! And because we didn't get a chance to go in depth, Len wanted me to mention that there is featured sword fighting! (This play has everything!)
Paradise Lost opens on February 8 at 7:30pm in Memorial Hall, UNB Campus, and runs until February 11.

Podcast: Play in new window | Download
Subscribe: Google Podcasts | RSS