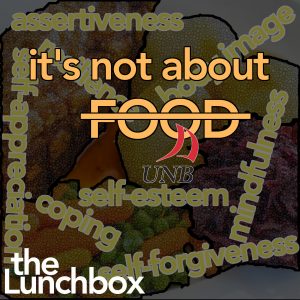 It can be distracting when we try to talk about the problems we are experiencing with the process of living when people focus on what's on the physical plate rather than the mental one..
My guests today are two, 3rd-year students in UNB's Nursing program, Tristan and Tanisha, who are also part of the practical experience placement with a discussion group for UNB and STU students called It's Not About Food. The group offers students an opportunity to join a small number of others and talk about issues that they are facing which can seem at first to be about the food they're eating, but which are actually much deeper, such as: body image, self-forgiveness, assertiveness, coping strategies and self-esteem.
The group meets in small-number sessions about 7 times for each round. Find out more information about the program (including how to get involved) at this UNB announcement post.

Podcast: Play in new window | Download
Subscribe: Google Podcasts | RSS