By Colin Fowlie for CHSR 97.9 FM

"I Feel So Alive!" declares the very first lyric from the opening track off of Kill Chicago's sophomore album, "The Fix", which releases on November 8, 2019.  And damn, do I ever. Perhaps that's a bit dramatic, but I'm not exaggerating when I say that this release has been one of my most anticipated of 2019. Back in 2015, their debut "The Grey" quickly rose to land itself of my list of great indie albums by any band from anywhere, ever. It still finds itself on my road-trip playlists and laid gently down on the bed of my turntable all the time. Needless to say, I had very high expectations for "The Fix".
With elevated expectations come concerns. "The Grey" seemed to nail the recipe for me. The combined efforts of the uber-talented Greg Webber (vox/guitar), Dillon Anthony (guitar/pedal steel/keyboards/musical MacGyver), Matt Bowie (bass/vox), and Zach Atkinson (drums) deliver something that is greater than the sum of its parts. My aforementioned concern was that the album title implied they were going to maybe try and fix something that wasn't broken.
Well… they didn't. They took what wasn't broken and leaned into it, while breaking some rules in the process.
The first offering, "Another Way," starts out minimally but quickly crescendos into that old familiar sound. A perfectly blended banger that works its way through several thematic and dynamic shifts along the way. It's a very intriguing progressive overture for what's to come.
"Moonlight" is next up, and is a gritty blues-rock stomp

that gives us a helping of something the band does so well. A shape-shifting driving song that is elevated by the pedal steel of Dillon Anthony. And by the 3rd track, "So Small" which features reggae-inspired stabs on the 2 and the 4 which give way to an anthemic chorus with and a choir of vocal harmonies, I'm satisfied. They have established their intent for the record and put to rest and concerns that I had of a drastic departure from what made "The Grey" great. This is a bona fide artistic evolution and I love it.
The breakdown at 2:52 of "Two Drinks Behind" has me headbanging as I type this very sentence on my 4th or 5th listen through the album. And then we're off on a double-time ride on the next track, "Made Up."
It's also well worth mentioning that the band has been redefining the genre of indie-music-video-on-a-budget with "Show Me"  ( https://youtu.be/uKyChvipkVM ) and "Two Drinks Behind" ( https://youtu.be/5WNNeSvBl3k ) which were released as singles ahead of the full opus and show what you can do when you have a unique combination of creativity and twisted humour. Both videos just beautifully embody the smart-assed rebel ethic that has come to define so much of the band's work.
The 7th track, "You Don't Like It" is a refined throwback to the band's 2015 sound, and "Flying Home" starts out as a sensitive acoustic monologue before it gets greasy. The final two songs – the blues-infused "Have Not Town" and slow burn of "Pull Over" are a fitting end to a musical ride that I plan to take again. Often. Because, much like how I view Kill Chicago itself, this album is better than the sum of the individual songs. I'm sure that favourite tracks will emerge and that I will tweet those at my friends and foes in order to impress them with my taste in new music, but "The Fix" is a body of work that deserves appreciation in its entirety.
In addition to the core members of the band, some decent harmonies are added by Alan Jeffries along with trumpet from Matte Robinson on "Pull Over" and backing vocals from the venerable Don Levandier on "Two Drinks Behind." These subtle finishing touches are just further evidence of the creative evolution of the band. To poorly paraphrase frontman Greg Webber – they wanted to make sure that if this was the last thing they ever recorded together, they could be proud of what they have accomplished and leave no regrets. They should be damned proud, they should regret nothing, and I REALLY hope that there is lots more to come.
Kill Chicago makes music that is best consumed as a combined audio dish. It's not a great steak or a plate of wings. It's more like your favourite casserole that mom used to make. "The Fix?" Mom added bacon to the casserole and now you're going to just keep eating it until you hate yourself.
Come see for yourself. Join Kill Chicago as they celebrate the release of "The Fix" on November 8th 2019 at 8 pm at the Capital Complex in Fredericton New Brunswick.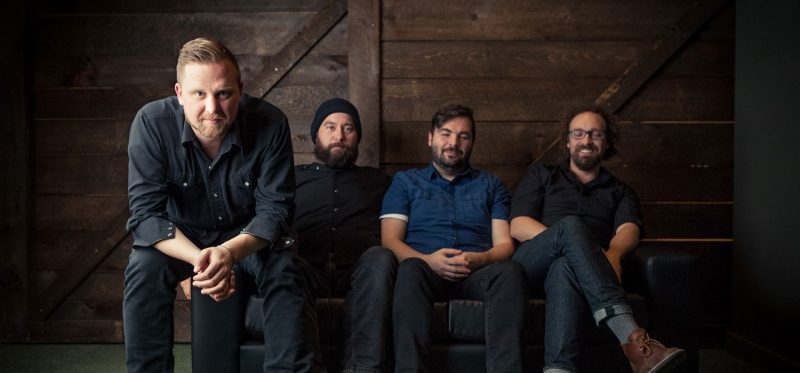 ---
Production Credits:
Produced by Brad Perry and Kill Chicago
Engineered by Brad Perry and Evan Hansen at The Recordery
Mastering by Ryan Morey at Grey Market Mastering
All songs written by Greg Webber and Kill Chicago
Album design by Tanya Duffy
Photography by Dillon Anthony and Chris Griffiths
---
Follow Kill Chicago:
Facebook: https://www.facebook.com/killchicago
Instagram: https://www.instagram.com/kill_chicago/
Twitter: https://twitter.com/killchicago
https://www.killchicago.com