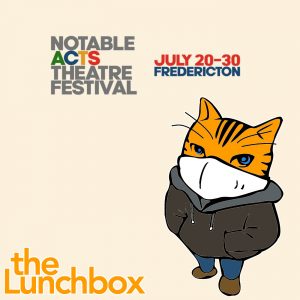 Once again, it's time to celebrate theatre in the city especially theatre from up-and-coming performers, directors and playwrights — including some familiar faces from recent productions.
My guests today are two people who you should recognize from numerous local theatre productions, including Bard in the Barracks, UNB Theatre, STU Theatre, Notable Acts and the Plain Site Theatre Festival.
Julianne Richard has written two plays for this year's festival, the one-act play Murder Mondays, and the 10-minute play, To Dig or Not To Dig, as well as directing Chicken Man (written by Mary Walker).
Alex Rioux is directing the other one-act play, I Hope You Can See the Birds, and getting ready for the fall's Plain Site Theatre Festival.
I talked with about being involved in several different aspects of theatre, and how each informs how the other can be done, as well as the four plays they are responsible for in this year's festival.
The Notable Acts Theatre Festival runs from July 20-30. The One-Act Plays (Murder Mondays and I Hope You Can See the Birds) are being staged as a double-bill from July 28-30 at 7:30pm nightly at the UNB Memorial Hall. The 10-Minute Taking It To The Streets performances (including To Dig Or Not To Dig and Chicken Man) are being staged outdoors (weather permitting) at the Beaverbrook Art Gallery Courtyard, from July 24-27, starting at 7:30pm nightly.
The 4th Plain Site Theatre Festival will be staged in November of this year, with its full schedule announced then.
More about each play (from the Notable Acts website):
Murder Mondays

In this love letter to the whodunnit, an esteemed naval captain is found murdered in his countryside home, with a slew of possible suspects. For the investigating detective, though, the crime is the least pressing mystery she needs to solve, and strange and shocking twists and turns abound.

Written by by Julianne Richard. Directed by Jake Martin. Featuring Rose Messenger, Jason McIntyre, Brenna Gauthier, and Alex Fullerton.
I Hope You Can See the Birds

In this intimate narrative of death and dying, together with his daughter and granddaughter, Bryan, a senior in hospital after suffering a heart attack, confronts his own mortality in a long string of goodbyes, heartbreaks, visions, and enlightenments.

Written by by Kaitlyn Adair, Directed by Alex Rioux. Featuring John Macaulay, Dani Brun, Circe Cain, Devin Rockwell, and Julie McDonald.
Chicken Man

Never having accepted that it is her genetic destiny to remain earthbound, Tootsie the chicken is determined to follow his icon, the comic book superhero Chicken Man, on a path into the skies and glory.

Written by by Mary Walker. Directed by Julianne Richard. Featuring Ben McIntosh, Madeline Savoie, Emily Darling, and Alex Pannier.

Podcast: Play in new window | Download
Subscribe: Google Podcasts | RSS