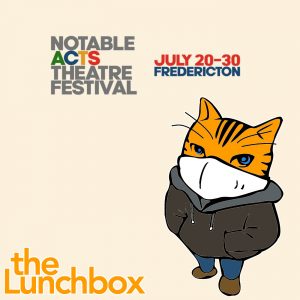 Every year, Notable Acts introduces us to different scenes, different places, different writers, different plays,, things that we don't expect, things we never thought to expect, things we've seen before but done an entirely different way.
The mainstage performance for this year's Notable Acts Theatre Festival is a new play called A Canyon Contained. I had the pleasure of talking with the playwright, Jena McLean, and the two actors performing in the play: Lara Lewis ("Jessica") and Megan Murphy ("Regan"). We chatted about where this play came from, where it's going, and the journey along the way.
The Notable Acts Theatre Festival runs from July 20-30. The mainstage production of A Canyon Contained runs nightly at 7:30pm at Theatre New Brunswick's Open Space Theatre (55 Whiting Road). Tickets are available at the door.
More about A Canyon Contained (from the Notable Acts website):
The morning after an eventful high-school party, two distant sisters find themselves trapped together on the drive back home. On one side, Jessica is glad to leave her reality behind for the sake of a new cause and a chance to build a bridge. On the other side, Regan struggles to make sense of her night and uncover the agenda behind her sister's new interest in connecting. As confessions, callouts and questions around consent come into play, the ride turns rocky and the political and personal intertwine.
Written by Jena McLean. Directed by Natasha MacLellan. Featuring Lara Lewis and Megan Murphy.

Podcast: Play in new window | Download
Subscribe: Google Podcasts | RSS