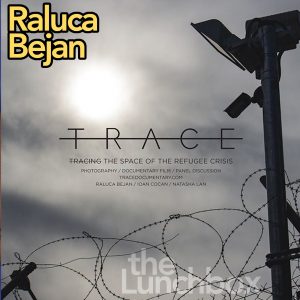 When it is too difficult or painful to stare at the blinding light of difficult times directly, sometimes it is as important to study the shadows created as well.
My guest today is Raluca Bejan, who is an accidental documentary filmmaker and intentional capturer of images around the tremendous 2015 European refugee crisis. In that year, she found herself near where the crisis migration was taking place, and started taking pictures, specifically focusing on the impacts of the crisis rather than the people, examining the wake of such an incredible moment. She joins me to talk about how the documentary evolved from that desire to document and analyze, and what visitors can expect to see when they come to see the exhibition. Bejan is currently an Assistant Professor in Social Work at Dalhousie University, and formerly an Assistant Professor at Saint Thomas University.
TRACE: Tracing the Space of the Refugee Crisis is a multi-media exhibition visiting the UNB Art Centre in Memorial Hall on UNB campus in Fredericton. It opens on January 17 at 5pm with a reception, and will be on display until February 14th.

Podcast: Play in new window | Download
Subscribe: Google Podcasts | RSS